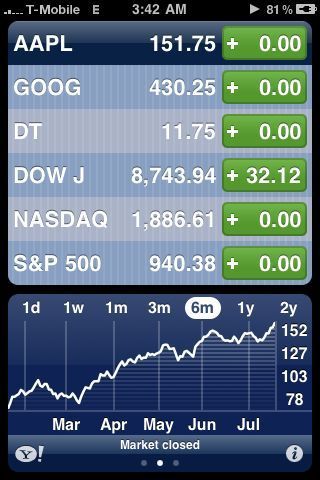 Yes everyone, its D-Day here in the U.S. as Apple will be giving their quarterly earnings call on July 21st.
Why is this important to everyone? Well, plain and simple, the economy is going to hell, and we need to see if we are making progress.
Why Apple, Inc. (AAPL)? Again, simple, Apple is the closest thing to a luxury brand in Silicon Valley that we've got. If Apple does well, that means we aren't in that bad of shape.
Let's face it, Apple is very expensive. If Apple does well, it means people are spending on things such as iPhones, iPods, and Macs instead of "sitting on their wallets" as the AP (Associated Press) calls it.
Economy 101, if people are buying and the cash is flowing, the stock market will show green, if people don't spend, you will see a lot of red.
Apple is expected to post a profit of $1.16 per share on $8.18 billion in sales. Last year it posted $1.19 per share on revenue of $7.46 billion.
Remember, 2008 was terrible for Wall Street and for Main Street.
This is basically a make or break sort of thing for us here in the U.S., I hope to see more revenue than last year tomorrow.
I doubt Apple will miss expectations with the iPhone, the iPhone 3G S is amazing and outsold the iPhone 3G on launch weekend. Not only that, the iPhone 3G was in so many countries on launch day, and the iPhone 3G S was only in a handful of those 70 countries.
I do expect there to be a slight decrease in Mac sales as (unfortunately) Microsoft's (MSFT) computer hunter ads have been working. I say slightly because Apple lowered its prices and refreshed their MacBook Pro line so that should have helped ease the losses.
Either way, tomorrow seems like a great day for Apple, Inc. (AAPL). Though, Apple may be a reflection of what our economy is like, but remember, this week is quarterly report week for Silicon Valley so expect there to be a lot of fluctuation on Wall Street.
Either way, we can all agree, Apple is probably the best run companies in the world. It not only survived this "recession" (depression) but it thrived. Its stock value may have been cut in half, but that's what it was like all across the board, yet they still reported a lot of revenue throughout the year.
Apple has recovered very quickly since Apple's iPhone OS 3.0 preview. They topped their stock off in the $200 range, their lowest point was in the low $70 range, well, since the iPhone OS 3.0 preview, today, they stand at $151.75.
Huge difference. Despite Steve's absence at Apple for all of 2009 so far. Well, he's back, and I'm sure he is proud (and relieved) that Apple didn't collapse, but rather thrive.
Well, today we shall speculate, tomorrow is what really matters. So let's just wait and see…