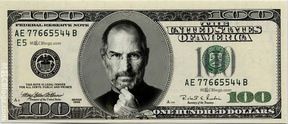 Well, just as we promised, here is a breakdown of Apple's quarterly earnings call that happened today. Well, it seems iPhone and Mac sales are up! (way up) "Traditional iPod" sales are down dramatically as well.
Here's how it went down:
"Best Non-Holiday Quarter Revenue and Earnings in Apple History!
Today we will announce financial results for its fiscal 2009 third quarter ended June 27, 2009.
The Company posted revenue of $8.34 billion and a net quarterly profit of $1.23 billion, or $1.35 per diluted share. These results compare to revenue of $7.46 billion and net quarterly profit of $1.07 billion, or $1.19 per diluted share, in the year-ago quarter. Gross margin was 36.3 percent, up from 34.8 percent in the year-ago quarter. International sales accounted for 44 percent of the quarter's revenue.
In accordance with the subscription accounting treatment required by GAAP, the Company recognizes revenue and cost of goods sold for iPhone(TM) and Apple TV® over their estimated economic lives. Adjusting GAAP sales and product costs to eliminate the impact of subscription accounting, the corresponding non-GAAP measures* for the quarter are $9.74 billion of "Adjusted Sales" and $1.94 billion of "Adjusted Net Income."
Apple sold 2.6 million Macintosh® computers during the quarter, representing a four percent unit increase over the year-ago quarter. The Company sold 10.2 million iPods during the quarter, representing a seven percent unit decline from the year-ago quarter. Quarterly iPhones sold were 5.2 million, representing 626 percent unit growth over the year-ago quarter.
"We're making our most innovative products ever and our customers are responding," said Steve Jobs , Apple's CEO. "We're thrilled to have sold over 5.2 million iPhones during the quarter and users have downloaded more than 1.5 billion applications from our App Store in its first year."
"We're extremely pleased to report record non-holiday quarter revenue and earnings and quarterly cash flow from operations of $2.3 billion," said Peter Oppenheimer, Apple's CFO. "Looking ahead to the fourth fiscal quarter of 2009, we expect revenue in the range of about $8.7 billion to $8.9 billion and we expect diluted earnings per share in the range of about $1.18 to $1.23."
What does this mean? Well, simple. People are tired of regular old iPods (Shuffle, Nano, and Classic) and their outdated OS. People want the iPhone OS!
Its no secret, iPhone has been the most innovative piece of technology in a very long time. Hell, I'm using an iPhone 3G to type all of this up and post it.
With its amazing 3.5 inch multi-touch screen and interface, unlike the iPod, the possibilities are endless!
So it seems that Apple already foresaw this decline in 2004 when they began creating and developing Project "Purple 2" (The iPhone).
So investors, don't fret. Apple (as always) is 10 steps ahead of you!
So what does this mean for everyone else? Well, it means the U.S. economy is improving at a faster rate than we could have imagined. Apple recorded its most profitable quarter ever! Also, the majority of the other companies that have reported so far also back up my analysis for the state of the economy.
Congratulations Apple! ?