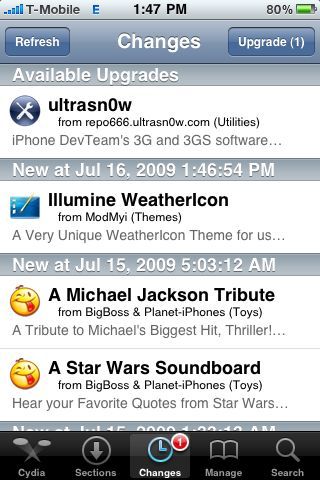 Yes everyone! Cydia has a new update for everyone with an unlocked iPhone 3G. There is a new ultrasn0w update! This is great news as this brings ultrasn0w closer and closer to 1.0 state.
Also, iPhone 3G S users are now eligible to get on the jailbreak/unlock bandwagon as Saurik has updated mobilesubstrate (2 times actually) and Winterboard to work on the new iPhone 3G S.
ultrasn0w 0.9 new features include:
• Works on both 3G and 3GS
• Works on hacktivated devices
• Works regardless of how you jailbroke your device
• Doesn't patch any mach-o binary whatsoever. (Doesn't require a separate patch as each new firmware comes out).
• Doesn't install any additional daemon
• Has no race conditions, no popups about "Missing SIM", no network issues
• Is almost 7,000 times smaller than its nearest competition 🙂
Is available now via Cydia. If you already have ultrasn0w, then go into Cydia and refresh and you should see an update.
The repo for ultrasn0w is http://repo666.ultrasn0w.com (that last "0" in ultrasn0w is a zero!)