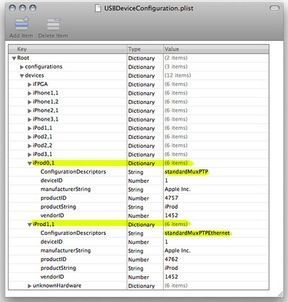 Wow! One of the biggest leaks coming to us via iPhone OS 3.1! Well, again, some new strings have been clearly found. As I had said before, iPod3,1 is still hanging in there.
As you may recall, I discovered the iPod touch 3rd Gen.'s boot sequence in the 3.0 betas a while back. I also discovered iPhone 3,1's (iPhone 4G, or 4th gen.) boot sequence in the betas as well.
Also, the mysterious iProd0,1 that I (and others) discovered during the beta period.
Well, now the plot thickens. iProd1,1 has also appeared in iPhone OS 3.1! Along with some interesting descriptions.
iProd0,1's description indicates that it is a standardMuxPTP model. Also, as I previously said during the 3.0 beta testing periods, the "0,1" in iProd's name probably means that it is still a prototype, now whether this is a 2nd gen or still a 1st gen protoype, is still unclear.
iProd1,1 is a StandardMuxPTPEthernet model, this is the exact description that can be found on the iPhone, which suggests that this has some major internet capabilities, again, pointing to a new internet capable device, such as the rumored MacBook tablet.
Again, the iPhone 3,1 model has no description, just like all other unannounced devices had in that early of a stage. Also, an iPhone 3,1 could be released before 2009 is over!
No other iPhone model has appeared that early to be unreleased until the next year. Seems fishy.
I am declaring this a 100% confirmed leak. Why? This comes to us from Apple themselves. Not only has this appeared since March, but its still here! If "iProd" was a type-o, wouldn't Apple have fixed it by now?
It just dawned on me that "iProd" could mean "iProduct". This is a possibility. I can basically confirm a MacBook tablet before 2009 is over.