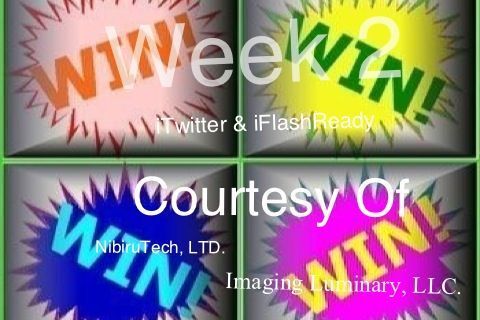 Well guys, here is a huge announcement from us here at Limited Edition iPhone! I have been extensively working with, and contacting, developers from around the world in order to give you guys a chance to win software that I believe you will all enjoy, for free!
So I will be reviewing and then later giving away that very software I reviewed for you guys! I hope you are as excited as I am, as I have been working hard to bring you guys quality software.
As you may know, giveaways are our way of saying thank you for checking us out and for supporting us and the Apple community.
We have 2 applications to giveaway this week, as part of our month long (4 week) giveaways!
The first is a great Twiter client. iTwitter is a smash hit that does an amazing job at letting you use all of the features on Twitter, wherever you are.
iTwitter brings push notifications in order to make tweeting your friends as simple as a tap. iTwitter is brought to you by our friends down at NibiruTech, LTD.
The second is one of my favorite applications on the App Store, I am talking about iFlashReady, brought to you by our good friends down at Imaging Luminary, LLC.
As you may recall, iFlashReady brings a digital flash to any of the images you take with your iPhone. It does a perfect job of creating a "digital flash" to your images in order to shed some light to low-light pictures.
We are giving away 5 copies of iTwitter and 5 copies of iFlashReady, in the form of iTunes redeemable codes.
These iTunes codes can be redeemed on your iPhone/iPod touch or your Mac/PC. Just redeem your code (as you would any iTunes gift card) and your prize will automatically be downloaded!
Now, everyone qualifies for this giveaway! If you have won before, feel free to try your luck again, as this is a different giveaway, also if you have entered our giveaways (before this specific one) feel free to take another shot at winning!
So to clarify, everyone can enter this giveaway once more, even if they have entered and won/lost on a previous giveaway, so enter for a chance to win!
This particular giveaway will officially begin on Monday, July 27, 2009 at 12:00a.m. (central standard time) and will run until Sunday, August 2, 2009 at 11:59p.m.
Any entries after the date shown will be null and void, check your local time in comparison to ours here.
Our standard rules apply:
•Leave a comment below. You can say something nice, you can say "I want it!", or even "I love you (Alan/Mike)!" if you feel the need.

•You may only enter this specific giveaway once. If you enter this giveaway more than once you'll be automatically disqualified. We have iPhone OS enabled robots, that not only kick ass, but they also check to ensure fairness. In other words, be careful when commenting or our very own iBot will be very angry.
•Contest is open to anyone worldwide!
Winner will be chosen randomly.
Good luck everyone! I will update this post if I have to say something important.
Thanks For Visiting Us!