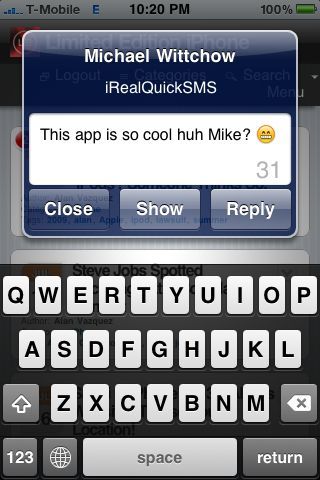 UPDATE 1: I am being told by our good friends at SpiritOfLogic that iRealQuickSMS is indeed 2.x compatable, and that previous 2.x licenses work on the 3.x version. I have edited the article accordingly.
Well, today I have a very cool (one of my favorites) Cydia package for you all. Today, I will give you my review of iRealQuickSMS by SpiritOfLogic!
Now, basically, this mobilesubstrate application allows you to do some pretty amazing things. It allows you to "quick reply" or "quick send" an SMS text message from any application!
This is great! This is just one of those things you cannot live without! This is also one of those things that Apple should have always had since iPhone OS 1.0.
Okay? So why should I care? Well, how many texts do people get/send every day on their iPhones? 1, 10, 20? No, its sometimes hundreds of texts a day! Now, Apple got the very intelligent idea of making it so that you have to quit what you are doing, let that be watching a video or whatever, to kill your app that you are using and launch their messages app to take its place, then you have to relaunch the app you were in, and you do this over and over and over.
It's annoying! I tolerated it for a while, then at one point, I'm like "OMG, I am sick and tired of this". I was looking for something to fix this annoying lack of features, then I found iRealQuickSMS.
iRealQuickSMS is awesome because it uses such little RAM and CPU, so your iPhone is running snappy. It can also go into landscape, as well as into portrait view.
It doesn't replace your messages application, but rather, it works with it to deliver and send your text messages with a very easy to use interface. It has a seperate application that acts as settings for iRealQuickSMS, you can configure it to your needs and preferences.
Now, you may not only continue a conversation (or conversations) with people using "quick reply", but you can also start conversations with a great feature called "quick send".
Now, "quick reply" is automatically triggered when you recieve a text message. To reply, just type in what you want to say, and hit "send". Its that easy!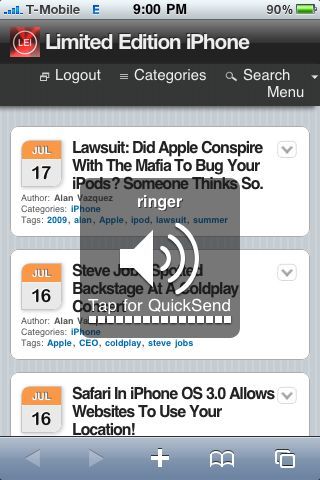 QuickSend can be triggered by the home button or by the volume up button, or a combination of hardware and software. I use a configuration where you press the up volume button, and then tap on the screen to bring the quicksend "window" and keyboard.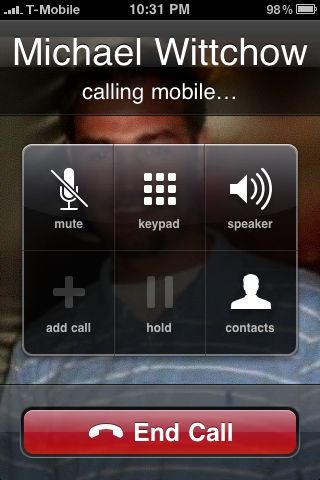 Now also, you can call people using iRealQuickSMS, just use "quick send" and choose the person from your contacts, and tap "call". Can't be any simpler than that.
They fixed a lot of bugs and gave us some new features since our original iRealSMS review that Mike did last year for you guys.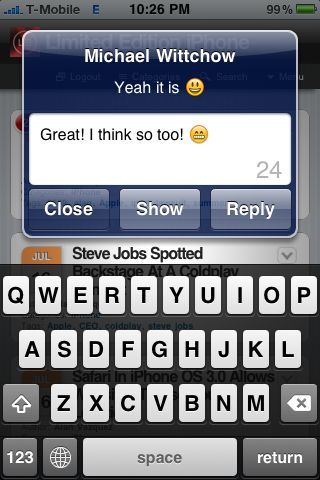 Well, overall, I give this app a 10 out of 10! Its simply something that you cannot live without. It makes texting super easy to do on the iPhone.
Tthis is a must have. It is available via the BigBoss repo in Cydia. Just install it, and respring. Then tap on the green "iRealQuickSMS" icon, and take it for a trial. If you love it as much as I do, you can purchase a license for $10 Euros. In the U.S., that would be about $12.50, it really depends what the Dollar and Euro are at.
So give it a try for yourself, and I really recommend you buy this if you haven't done so yet! You won't regret it! ?