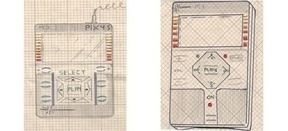 Kane Kramer came up with a gadget and music distribution service almost eerily similar to the iPod-iTunes relationship that predates it by three decades.
The IXI (Kramer's device), was flash-based, (flash memory in 1979 only could have held about three minutes of audio), and featured a screen, four-way controls, and was about the size of a cigarette pack.
He predicted the creation and sale of digital music and foresaw all the good and bad that would come from this: no overhead, no inventory, piracy, but a great push for independent artists.
He predicted DRM and in his one concession to the time, guessed that music would be bought on coin-operated machines placed in high-traffic areas.
It's creepy, really. Last year, Apple even brought him in to testify on their behalf (they weren't at risk of being sued themselves, since his patent had expired.)
Pretty amazing, considering there wasn't even internet at the time (he used telephone lines instead).
How is this possible? Well, nobody really knows how. I would like to think this is impossible, but there are facts to prove it. Wow, I wonder who predicted the iPhone…