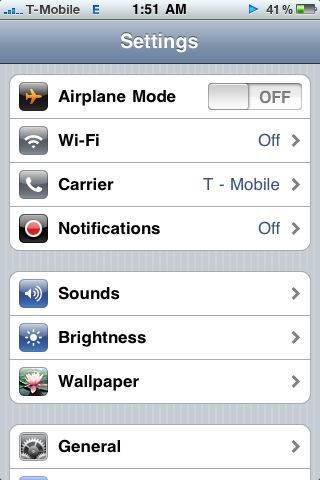 Well, due to popular demand, I have been asked to provide a tutorial, based on my experiences, on how to get a T-Mobile Sidekick prepaid plan onto the iPhone. I will cover, getting the SIM, payment, porting your old number, and setting it all up on the iPhone in this tutorial. So let's get started!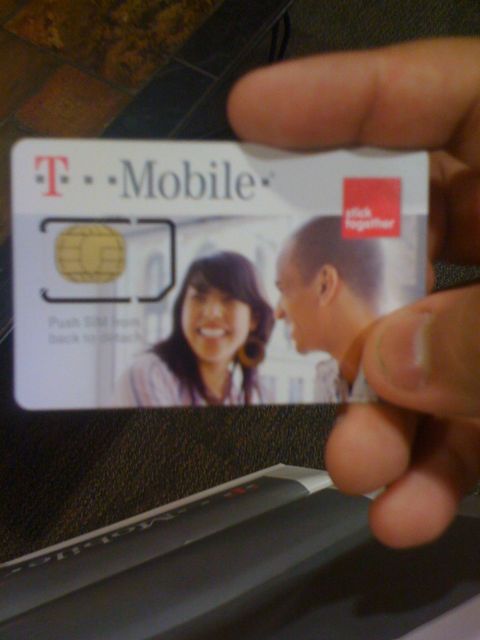 The first step is to get a T-Mobile SIM card. Well, if you don't have a T-Mobile SIM that came from an actual Sidekick phone already, read this carefully. Well, I went to one of my local T-Mobile stores in order to obtain my T-Mobile SIM card.
Well, as you may have know, I had AT&T GoPhone before I had T-Mobile on my iPhone, so obviously I didn't have a T-Mobile SIM. Well, like I said, go to the T-Mobile store, and ask for a SIM kit for the prepaid sidekick plan. (Its a special SIM, so make sure you tell them what you want, with a straight face.
Now, also make sure to tell them, "I bought a Sidekick on eBay, and I haven't gotten it yet, but I need the SIM so I can use it when it gets here". Just make sure you tell them you "have a Sidekick, but its not with you". If you have a non-caring T-Mobile employee, you're golden. If they tell you no, say "alright, thank you" and go to another T-Mobile store or go back on a different time and day. It worked on my first attempt, they really shouldn't care.
So now, that the T-Mobile person has the SIM (Make sure on the package that he/she brings back has a "$30″ in a big pink square". Also, make sure you have $35 with you to buy the SIM kit and pay the tax (it depends on where you live, there are different taxes everywhere, its 6% here, very cheap).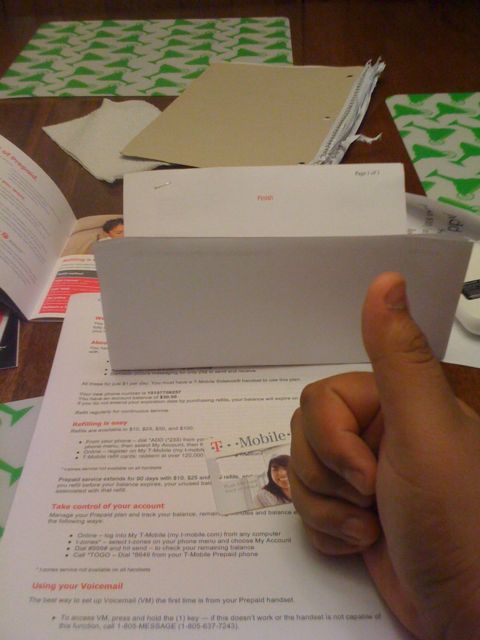 Cool! You now have everything you need from the T-Mobile store!
Before they do anything, if you want to keep your number (doesn't matter what carrier you have, they made a pact with all the major companies to port numbers) tell them. They will tell you that they will give you a new number, then they will call T-Mobile customer service for you to get it changed.
VERY IMPORTANT: I had huge issues here. If you have AT&T call their asses at customer service and get your account number!!! Prepaid customers have an account number as well, I didn't know prepaid customers had account numbers so I had to spend 3 days (I did it on Friday, and. i had to wait to call them on Monday morning, because I had a b-day party on Sunday and they said wait 24 hours so Saturday wasn't a good day to do it.) waiting to get ported until i called and the issue was AT&T didn't want me to port my number because I didn't give them my account number, because I didn't know.
SO GET THAT NUMBER! Then tell them your name, bring some ID, bring the money, write down the number you want to get ported, get your account number, and most of all, stay cool.
So let them set your new T-Mobile prepaid (sidekick) service up. Make sure its not regular T-Mobile prepaid or else you will not be able to get the full internet, as some of you have found out by me emailing you.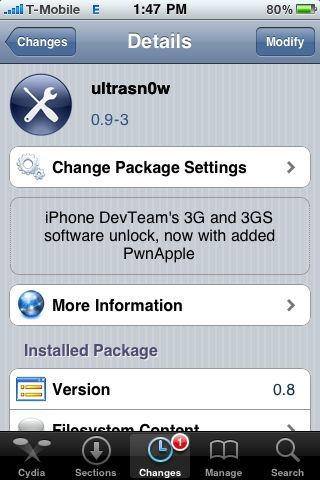 Now, after you've paid and gotten your SIM, take out your iPhone, and go into Cydia, and add the repo http://repo666.ultrasn0w.com/ and refresh. this is your unlock solution. This is where you unlock with ultrasn0w. Install ultrasn0w and reboot.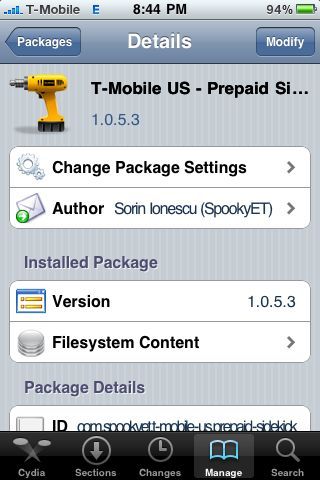 Now, before poping in the SIM, go back into Cydia, and go into the Modmyi repo, or search for "T-Mobile", now look for the "T-Mobile -US Prepaid Sidekick Support" package, install it.
(This will enable you to use the full unrestricted internet (not just the 5 wap sites you get with the regular T-Mobile prepaid (non-sidekick), teathering, and MMS (well, I have not gotten MMS to work, I called the creator of the package, and he said he called T-Mobile and none of the MMS APNs they gave him worked, so don't be surprised that MMS doesn't work.)
Now, MMS does work with the T-Mobile Flexpay Sidekick plan with this same package.
Alright, turn your iPhone off (slide the red slider by holding the power button), now take out the old AT&T SIM you had in it, and pop in your new T-Mobile SIM. Now, turn the iPhone back on.
You should see a delay, or it saying "…" in the status bar, let ultrasn0w kick in and recognize you now unlocking, and you should see an "E" symbol for EDGE after a few seconds, and then T-Mobile, then more bars pop up.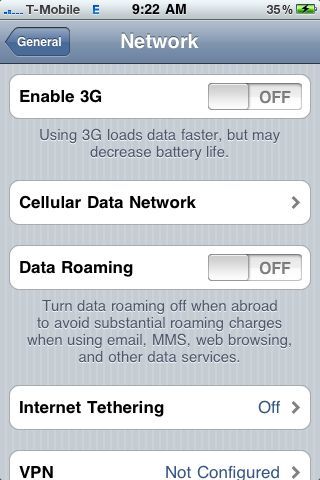 I had huge issues when I did this. I was scared out of my mind, thinking I had canceled my AT&T service for a non-working T-Mobile sidekick service, I rebooted and still "Searching…" and it would hang….
Turns out, I had "3G" on. Lol. Make sure you turn 3G off. If you forgot to turn 3G off before turning your phone off to take the SIM out, turn 3G off in the Settings app, and reboot again, this time, you should finally see a T-Mobile carrier with bars! So don't be stupid like me and leave 3G on. ?
So, now go into Settings->Phone->My Number, now it will say "unknown" like mine did, change it to (country code first, then area code, then number)
Example:
1 (800) 444-4444
Cool, so there you go! You should now have T-Mobile Prepaid on the $1 a day Sidekick plan on your iPhone 3G or iPhone 3G S running (and only running) iPhone OS 3.0 (7A341).
Now, if you didn't receive an SMS text message saying that your number had been ported in the 24 hours they told you it would (and I mean 24 hours), call 1(877)789-3106 to see what's going on. This is T-Mobile's number porting hotline. Call that number to begin porting your number or to see what's taking so long.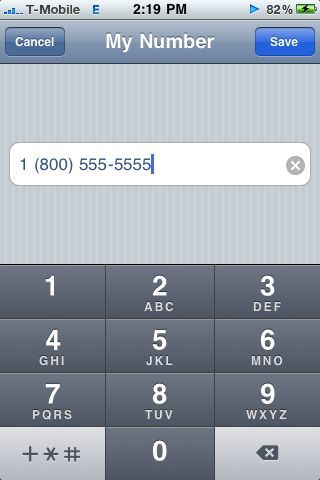 Once you get everything done and straightened out here and you have your number, go to Settings->Phone->My Number and delete the old number, and type in your new number. Now, go ahead and reboot one last time.
Now, on to payment, you will get a month of "free" (you pay $30 bucks at the T-Mobile store to get the SIM kit so its not exactly free) T-Mobile service.
So what happens when you run out of money the next month? Well, just pick up a T-Mobile refil card at your local Walmart, Target, Best Buy, convenience store, or T-Mobile store. They come in denominations from $10-$100.
To add funds to your account, dial *223 on your iPhone.
Or go to Settings->Phone->T-Mobile Services and tap on the service that you need.
The T-Mobile Prepaid Sidekick plan includes: Unlimited SMS text messaging, unlimited internet (EDGE & GRPS, 3G doesn't work due to hardware differences), unlimited teathering, possible MMS for 25 cents sent 10 cents received (if someone can get this going), and 10 cents a minute!
Now compare that to AT&T's Prepaid GoPhone plan: $20 for 100MB of data, $20 for unlimited texting, teathering block, MMS block, and 25 cents a minute.
Now you see why I switched! ?