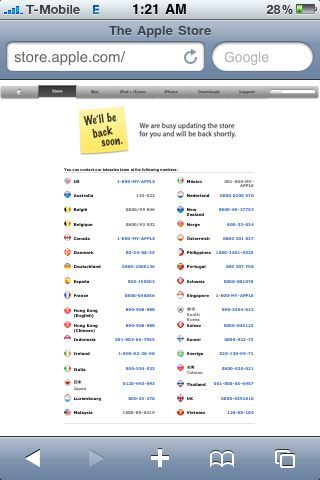 UPDATE 1: Well, just as I thought. Apple just changed everything to be more "Snow Leopard-ish"! Also, I found something that caught my attention, Apple is selling a refurbished iPod touch 2G for $179.00! They are also featuring a refurbished iPod Nano for $99!
This further supports everything I have believed since March, a new iPod touch and a new iPod Nano coming very soon! Apple could have featured any other product, but it just so happened to be the touch and the Nano!
They also slightly tweaked the look of their store.
I'll post anything else I can find! (Pictures after the break)
Well, here is some strange news! An annonymous tipster told me to check out store.apple.com, and what did I find?! Well, Apple's Online Store is down!
Why is this going on? My tipster claims that it is happening because they are adding the MacBook tablet and the new iPods on the store! Do I believe my tipster? No.
Well, it wouldn't make sense. Why would Apple sneak such huge news into their website in secrecy? This just doesn't make sense. They would have to hold a huge event to announce these new products.
I strongly believe that they may just be upgrading their MacBook's internals as some rumors were circling a few weeks ago. Even more, I believe that they are just updating the store with Snow Leopard things, nothing more.
I will keep you updated if anything significant happens!
UPDATE 1 Pictures: