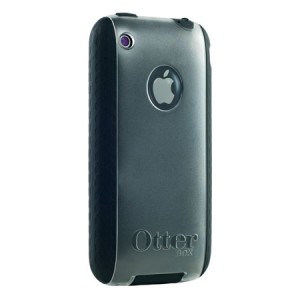 Otterbox has just released some new cases for the iPhone 3G / 3GS. They sent a few over to us to review. The first is the Otterbox Commuter TL Case. I was going to do a video review of these cases but my camera died before I could transfer the data and my brother lost the recharger now. As soon as we get that fixed I will post a video review.
The Otterbox Commuter TL case is available in 7 different colors and is slimmer and more stylish that Otterbox's Defender series. It offers less protection than the Defender series, but you have a slim and sexy look yet it still offers decent protection.
After using this case for about a week, I have come to realize that this is not going to come off my iPhone. I mean this in a good way. Obviously you can remove it with ease. I am going to keep it on as my main case. Typically I like to have my iPhone in a slim sleeve and store it in my pocket. The Otterbox Commuter TL case offers more protection and does not add much bulk.
The Otterbox Commuter TL includes three pieces. The first thing you get is a clear protection film that adheres to your iPhone's screen to protect it from scratches. I bet most people already have this but it is nice to get a new one every so often. The second piece is a silicon protection layer that helps your hands grip your iPhone with ease and dissipate shock away from your iPhone. The last layer is a clip that offers extra support and protects and displays your Apple Logo and camera.
The Otterbox Commuter TL is priced perfectly at $29.95
Lastly all of your ports are fully covered by the silicon layer and can be easily opened to connect your headphones and cable. Overall Limited Edition iPhone rates the Otterbox Commuter TL series a 10/10!