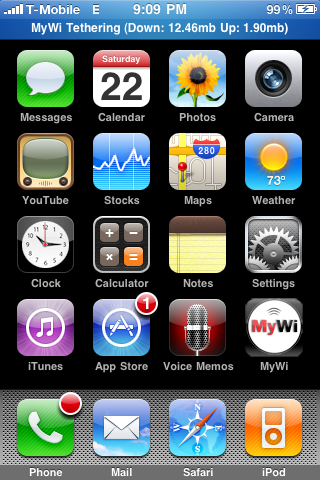 Hey guys, today I am reviewing a very request application. Today is MyWi's turn. MyWi is an application that allows you to share your iPhone 3G or iPhone 3G S' GRPS/EDGE/3G connection via Wi-Fi!
This is really cool. This is an amazing application! It is so simple to use and set up. Anyone can do this.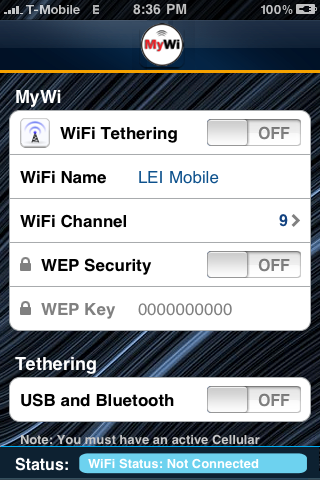 You just have to open MyWi, give your network a name, and tap on the "Off" slider button, then it will automatically start the necessary services and start the Wi-Fi antenna. It's that simple! You can also set a password for your network so you can choose who uses your iPhone's MyWi connection and who doesn't.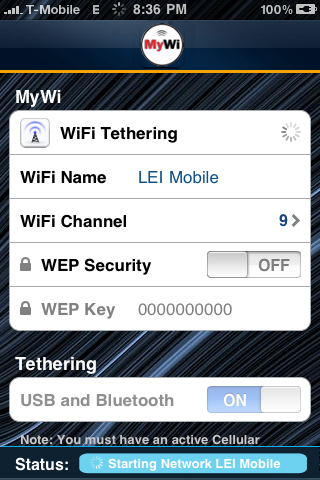 The best part is that your iPhone 3G/3G S doesn't have to have MyWi running all the time, you may do other things while you tether via Wi-Fi.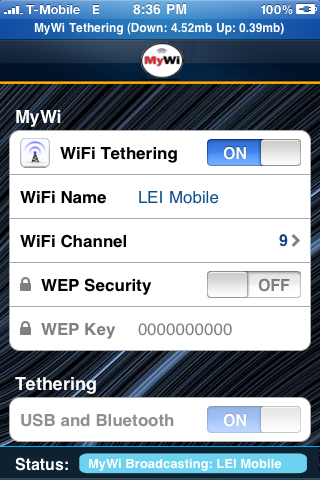 I use MyWi daily. I use it to tether my iPhone 3G to my hackint0shed netbook via Wi-Fi. The reason being that p1nksn0w is still in beta and USB/Bluetooth tethering doesn't work correctly so MyWI (with a few modifications to System Preferences) is the only way to tether. Also, I have found Wi-Fi tethering faster than USB 2.0 tethering.
MyWi transfers the data from the cellular antenna/services and transmits Wi-Fi signals that allow you to use your carrier's network.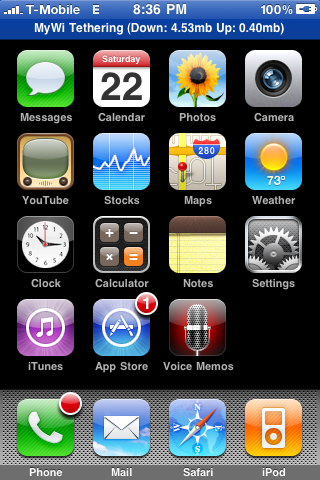 MyWi has a decent range. I have found it to cover a medium sized room from end to end. I would use this if you are like me and don't have a home internet connection so you have to resort to your carrier's (in my case T-Mobile) GRPS/EDGE/3G network. Also, if you are in a work or school setting and your administrators block your internet, this is a great way to cheat their system blocks. 😀 (You could also charge your friends to use your network, just set a password and rent them the password.) 😀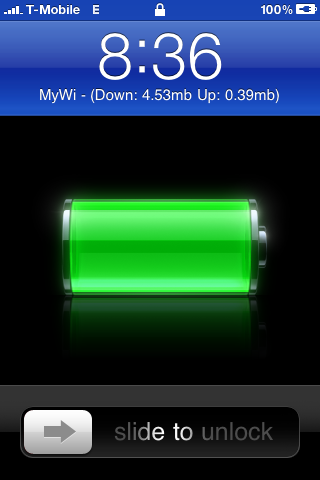 I am really impressed. If you have Verizon Wireless or Sprint you may be familiar with MiWi, well this is exactly the same concept. Share your cellular data connection via a small device (this being the iPhone in MyWi's case).
I recommend you all to purchase this. I give MyWi a 10 out of 10, I rarely love an application that much. It works very well, and the possibilities are endless.
MyWi can be purchased via Rock Your Phone's RockApp application. You may download RockApp via Cydia. I highly recommend you download RockApp & RockApp Extensions (the extensions are so RockApp works) and make a Rock Your Phone account, you will definitely need it very shortly if you know what I mean… 😀